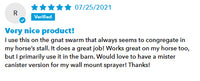 Great Products for Around the Farm!
We just love happy customers! Check out our latest review!
Pro tip: Use Jack's Gnat Attack around the barn - and stalls (Don't forget to spray on your horse too!)
Shop now
Insect Repellent and Anti-Itch Lotion in One

All Natural Ingredients
Our unique formulas contain all natural ingredients so you can feel good about what you are putting on your body or using on your horses.

Made in the USA
The idea of Jack's Gnat Attack was formed when moving to Florida and we have been producing our products in the USA ever since.
No Harsh Chemicals
No Chemicals, No Pyrethrins, No Piperonyl Butoxide, No Permethrin. We believe in the power of natural ingredients!
Personal Bug Spray Collection
Learn About Our Personal Care Collection
Personal Care Collection Testimonials
"I love it. Since we're camping we have a lot of bites and fire ant bites. We use it to help the itch."

Kelby Farnsworth 
"I used the product twice on days that I should have been bitten by a mosquito.  The product works excellent. No mosquito bites."

Dr Sheldon M.
"Worked well this afternoon.  I used it during my lessons.  Even let my last two Juniors of the day sample some.  Love the smell!"

Kimberley L. LPGA Golf Professional
"Yes. it worked. thank you. its still in my car in case i get a bug bite on the go i can use it."

Agnes Magyer, YMCA Instructor 
"Awesome! Btw I used some on a bite I got this morning & worked marvelously."

Melody Mitchell 
"After I got your product....We were eating outside and bees and flies really like to annoy us. I sprayed your spray on my arms and on a napkin on the table. That helped to keep them away. I was so happy about that."

Kathleen Billings
Equine Fly Spray Collection
Equine Concentrated Collection
Learn about our Equine Collection
Equine Collection Testimonials
"Your product is the best the girls have ever used on their horses. They are ecstatic about the results."

John
"For the horses i use it in a spray bottle and also just liquid applies by hand. I wipe the legs, face and belly with it in my hands. I also use it now as a flyspray to get rid of the gnats. Works awesome."

Virginia
"Your spray seems to work well keeping the house flies and gnats away from the horse' eyes." 

Doug